You are here
Back to top
TRUMPED (An Alternative Musical) Extract Performance Edition, Educational Two Performance (Paperback)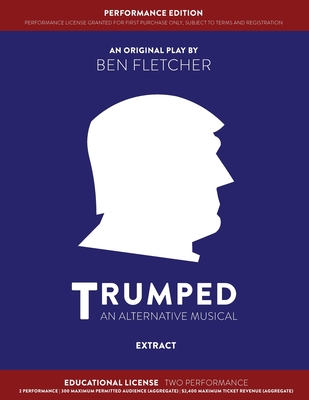 Description
---
AN ALTERNATIVE MUSICAL ABOUT AN ALTERNATIVE PRESIDENT
Written in four acts presented across two parts, TRUMPED: An Alternative Musical is a satirical stage play that parodies the 2016 Presidential Election campaign of Donald Trump and his subsequent time in office as the 45th President of the United States.
Opening on the final day of the July 2016 Republican National Convention in Cleveland, Ohio, Act I tells the story behind the Trump campaign's journey from the outsider of the Republican field to the unexpected winner of the Electoral College with a questionable victory.
With the election over and Donald Trump set to become the 4th President, Act II opens the day following the election as both the world and the current President, Barack Obama, are all still in shock at the previous day's result.
Picking up some weeks after the conclusion of Part One, Act III opens as the President is presumed missing by his closest supporters, and Vladimir Putin is becoming tiresome of ruling from the front lines.
Coming to a close as the 2018 Midterm elections approach, Act III follows the President as, despite his America-first attitude, he attempts to forge new international ties with world leaders and royalty alike, while domestically, his party works to secure a new seat on the Supreme Court.
Act IV opens with an opportunity to discover how Trump's predecessor is coping with his post-presidential life and his thoughts on the upcoming Midterm elections. Leaving island life behind, the action then returns to Trump as he discovers that under his leadership, the Republican Party is set for a historic loss.
Coming to an end in late 2019, this final act builds up to an interpretation of events as they should have been, with the President finally being held to account.
PERFORMANCE EDITION
Register your purchase to be granted a one-time non-transferable performance license. Registration required and terms apply. For full terms, see inside book or visit analternativemusical.com/performancelicenses.
Educational - 2 Performance - 300 Maximum Permitted Audience (aggregate) - $2,400 Maximum Ticket Revenue (aggregate) - Up To Fifteen Scenes