You are here
Back to top
Everything I Know About Love: A Memoir (Hardcover)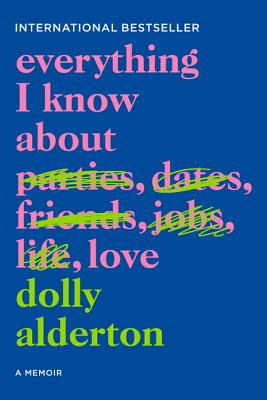 $22.99
Email or call for price
Description
---
"There is no writer quite like Dolly Alderton working today and very soon the world will know it." —Lisa Taddeo, author of #1 New York Times bestseller Three Women

"Dolly Alderton has always been a sparkling Roman candle of talent. She is funny, smart, and explosively engaged in the wonders and weirdness of the world. But what makes this memoir more than mere entertainment is the mature and sophisticated evolution that Alderton describes in these pages. It's a beautifully told journey and a thoughtful, important book. I loved it." —Elizabeth Gilbert, New York Times bestselling author of Eat, Pray, Love and City of Girls

The wildly funny, occasionally heartbreaking internationally bestselling memoir about growing up, growing older, and learning to navigate friendships, jobs, loss, and love along the ride
When it comes to the trials and triumphs of becoming an adult, journalist and former Sunday Times columnist Dolly Alderton has seen and tried it all. In her memoir, she vividly recounts falling in love, finding a job, getting drunk, getting dumped, realizing that Ivan from the corner shop might just be the only reliable man in her life, and that absolutely no one can ever compare to her best girlfriends. Everything I Know About Love is about bad dates, good friends and—above all else— realizing that you are enough.
Glittering with wit and insight, heart and humor, Dolly Alderton's unforgettable debut weaves together personal stories, satirical observations, a series of lists, recipes, and other vignettes that will strike a chord of recognition with women of every age—making you want to pick up the phone and tell your best friends all about it. Like Bridget Jones' Diary but all true, Everything I Know About Love is about the struggles of early adulthood in all its terrifying and hopeful uncertainty.
About the Author
---
Dolly Alderton is an award-winning journalist. She has a column in the Sunday Times and has written for publications including the Daily Telegraph, GQ, Marie Claire, Man Repeller, and Vice. She is cohost of The High Low, a weekly pop culture and current affairs podcast, and also writes for television.
Praise For…
---
"Dolly Alderton has always been a sparkling Roman candle of talent. She is funny, smart, and explosively engaged in the wonders and weirdness of the world. But what makes this memoir more than mere entertainment is the mature and sophisticated evolution that Alderton describes in these pages. It's a beautifully told journey and a thoughtful, important book. I loved it."
— Elizabeth Gilbert, New York Times bestselling author of Eat, Pray, Love and City of Girls

"Dolly Alderton is one of the foremost "it" writers of our time. Her sexy and tender debut, Everything I Know About Love is a one-sitting book, it is a break-up recovery book, it is a honey, what can I help you with tonight book, it is a this is what your lover should make you feel book. Whatever ails you, Alderton can fix it with her intimate wisdom... There is no writer quite like Dolly Alderton working today and very soon the world will know it."
— Lisa Taddeo, author of #1 New York Times bestseller Three Women

"Hilarious and moving. Alderton is Nora Ephron for the millennial generation."
— Elizabeth Day, author of How to Fail and The Party

"Steeped in furiously funny accounts of one-night stands, ill-advised late-night taxi journeys up the M1, grubby flat-shares and the beauty of female friendships, as Alderton joyfully booze-cruises her way through her twenties."
— Metro

"Poignant, witty, comic, and self-deprecating. A laugh-out-loud, lightning quick journey through the years that will resonate with anyone who's ever been young and in love."
— Daily Express (London)

"I loved it so much, I wanted it to go on forever, Dolly Alderton is so gifted at making people care. A rare talent."
— Marian Keyes

"Alderton is an old soul—she has learned life lessons while not yet out of her twenties that many of us post-menopausal matrons are still struggling with. A wonderful writer, who will surely inspire a generation the way that Caitlin Moran did before her."
— Julie Burchill

"Nora Ephron for the Tinder generation."
— Financial Times

"A Sunday Times columnist draws her coming-of-age story with tender flair... Alderton's portrait exemplifies love. A poignant breath of fresh air for those who struggled—or are struggling—with the dramedy of early adulthood."
— Kirkus Reviews